Israeli politicians have screwed up in many of their speeches, but in all likelihood no screw-up was bigger than the one of Prime Minister Levy Eshcol on the eve of the 6-days war in 1967.  Eshcol, reading a written speech meant to instill confidence in nervous citizens, ran into a few words his aides inserted in the last minute speech without consulting him.  He didn't like them and tried to come up with better words.  It didn't take long, maybe just five or ten seconds, but during that time he said Ahh three times and repeated his words twice.  The impression of mumbling and indecisiveness were strong enough to force him to resign his second post as defense minister and landed Moshe Dayan into that position instead.
The small lesson here is that when reading a speech from a paper, it is important to practice carefully, especially if the speech was written by a team.  The bigger lesson is that choosing the right accessories for a speech can determine its success.  So here is a simple guide to the use of speaking aides:
Memorizing Speech
There is certainly some magic in standing up and speaking 'from the cuff' without preparation or aides, or at least in appearing to do so.  It gives the impression of a speaker so in command of his material that he knows it all by heart.  It also gives the sense of being so emotionally connected to the subject matter as to allow the speaker to speak spontaneously and from the heart.  Unfortunately making such an impression requires a lot of talent or a lot of experience, or a lot of practice, and probably all three.
Without them, a 'spontaneous' speech easily deteriorates into lack of seriousness and and falls prey to any little mishap.
Pros: projects spontaneity, assures excellent eye-contact, allows for free movement around the room.

Cons: No back-up in case of failure. Projects excessive confidence and lack of preparation.  Require extensive preparation to look respectable.

When to use: If you really, really know all your stuff.  If it is more important to look comfortable than to look professional. If you do not care about failing.

Famous Examples: Preachers and Stand-up Comedian.  Best Speaker: Jerry Seinfeld
Using outlines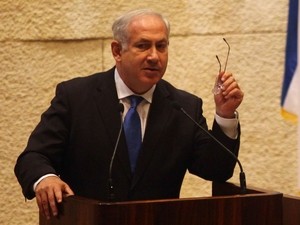 Outlines are a  powerful and efficient tool that gives good results with minimal effort.  My experience is that after basic training most people can create and deliver a good sounding speech within minutes, even under pressure.  The increased flexibility and efficiency of outlines come from making the most of the written medium (clarity, organization, and reminding) with the flexibility of speaking freely.
A special advantage of using outlines is reducing stagefright, as it leaves the speaker in control wile offering guidance the potentional for support in case of a black-out.
Pros: Projects professionalism. Allows flexibility in timing and emphasis. Enable a good amount of spontaneity and eye contact.  Enables speaking at length even with minimal preparation.

Cons: Requires training.

When to use: anywhere. Anytime.

Famous Examples: Lecturers in academia, marketing professionals.  Best speaker: Benjamin Netanyahu.
Reading a written speech
Many of the speeches we see on television are read from a written paper, leading many to think that this is the right way to make a speech.  The reason is that reading a pre-written speech is appropriate for delicate situations where he wrong word can cause much damage, or when many people must be involved in preparing the speech.  Therefore, important speeches by politicians have a good reason to be pre-written, but most others do not.
To come across well, a written speech has to be carefully rehearsed in order to overcome its inherent weaknesses: Limited eye contact and monotonous tone.
Pros: No room for ambiguities. Total control of every word. Avoids black-outs and other failures.  Enables eloquence when speaking in a foreign language.

Cons: Requires extensive preparation and time-consuming rehearsal.  Limits eye contact and connection with the audience.  Limits flexibility.  Can sound monotonous or sounding very formal.

When to use: In delicate situations when what is not said is more important than what is said.  When writing can be outsourced to more talented and less busy writers.

Famous Examples:

Senior politicians, diplomats, business facing a crisis.  Best Speaker:

Barack Obama
PowerPoint Presentations
Done right, a presentation can upgrade the speaker and add a lot of content and style, and even a bit of humor.  This is because it gives the visual dimension and allows much more information than a purely oral speech.  Presentations are particularly useful in areas that require large amounts of information or an important visual aspect.  Another advantage is that presentations are very structured and can force organization and discipline even on the messiest speaker.
However, preparing a presentation is an art form in its own right and requires proficiency with the medium, with the technical glitches and bugs, and with coordinating spoken and visual messages while overshadowed by a giant screen.
Pros: By mixing text, speech and graphics it upgrades the visual aspect.  Virtually guarantees structure and control.  Enables good  eye contact.

Cons: Requires extensive preparation.  Requires practice and proofing.  Limited flexibility.  Can easily degenerate into too much text and boring reading of slides.

When to use:  When there is a lot of material and limited speaking time.  When visual information is necessary.  When the same presentation has to be made several times.

Famous Examples:

High-tech and finance managers.  Best Speaker:  Shay Agassi,

Steve Jobs

.